Just like an architect wouldn't build a house without a blueprint, business owners shouldn't build a website without a plan. An effective website structure improves your Google ranking, SEO score and most importantly improves the user experience. Ever got to a poorly structured website and tried to navigate through it? It's a nightmare. And a poorly structured site always results in people leaving. Check out these websites from the 90s that you won't believe existed.
If you're building or rebuilding your website, you'll need a plan! Here are our tips on how to plan your website structure.
The golden rule
The golden rule for an effective website structure is making information about your products and services clear and accessible. Throughout the website planning process, always ask yourself 'is it easy for people to find the information they're looking for?' If you answered 'no' or 'not really', tweak it.

The silver rule
Do your research. Spend a good chunk of time (at least two hours) researching your competitors. Look at their websites and make notes of what you like and don't like. Google 'website templates' for your industry to get some design inspiration. Make notes of everything you like and don't like and factor them into your decision-making process.
Step 1: Whiteboard your business
The first thing you'll need to do is lay out all the relevant information about your business, particularly the parts that your potential clients or customers want or need to know. Website templates usually help provide a basic structure, however, here's a framework to get started.
What does your business do?
What are your products and services?

List them and group them accordingly
Offer prices if possible

What do people need to know about your products and services?
What information can you provide that will help them choose you over your competitors?
What products will you sell online? (if applicable)
Do you need to show people photos of your product or service?
The answers to these questions will help you create your website hierarchy.
Step 2: Create your website hierarchy/navigation
Your website hierarchy plots out the main and sub menus of your website. Your website hierarchy should be logical and flow sensically. Avoid having too many sub-categories which make your site harder to 'crawl'.
Jargon alert! What does crawl mean? Crawling or spidering is the term used to describe the automated process that happens when someone searches for something online. When a search is made an automated script 'crawls' the internet to find the best possible result for that search to deliver to the user.
Your website's menu and sub-menus may look a little something like this:
Homepage

Compelling headlines
Snapshots of your key services and products
A short introduction to your business
Contact information

About

Information about your team, your experience, your industry knowledge and your USP.

Services

With a sub-menu of services you offer.

Products

With a sub-menu of products you sell.

FAQs

Contains a list of questions potential customers ask. An FAQ section is a great way to help overcome objections people might have in their mind when they get to your site.
Your web designer or developer will help you plot out your site's URL structure and should generate a site map.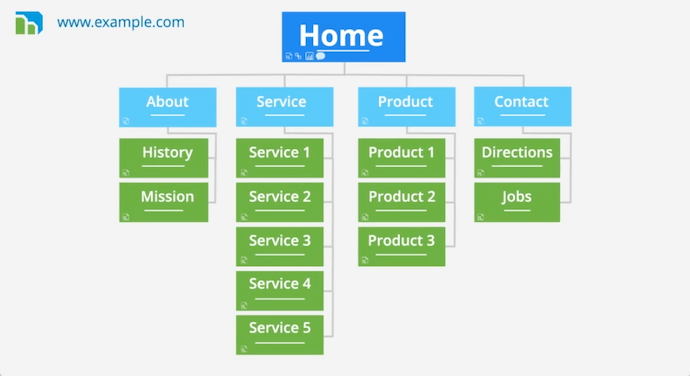 Step 3: Keyword research
Planting keywords into your website helps your website appear when people search for those keywords in Google. During your planning process, you'll need to research and select keywords and key phrases that you can place into your website's URLs and within the content.
Start by thinking of what you'd put into Google if you were looking for your products and services. Install Keywords Everywhere, a Chrome extension that shows you the search volume of a keyword and the competition too. This will help you ascertain what is being searched and how competitive it is.
Use Neil Patel's amazing SEO Analyzer to see what keyword's competitors have on their websites.
READ: How do I get my website on the first page of Google?
Techy tips
Make sure your website has a site map. You can use website's like this one to generate one.
Create your navigation in HTML and CSS. The best way for crawlers to find your website is if it is in these formats. Avoid using JS, flash or AJAX.
Make sure your website has a security certificate. You can purchase one from your domain provider.